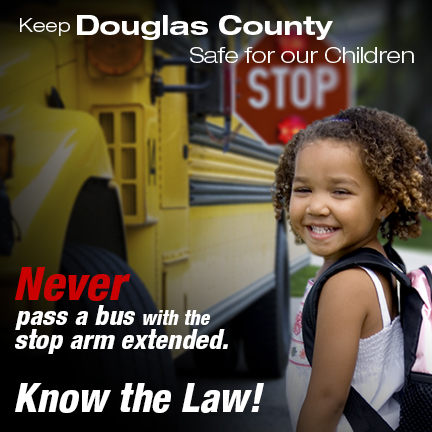 The Douglas County School System (DCSS), the Douglas County Sheriff's Office and American Traffic Solutions (ATS) have released a video Public Service Announcement (PSA) to help educate the community about the growing problem of illegal passing of school buses. The video that can be viewed here, explains how the CrossingGuard® school bus stop arm safety solution works. It also highlights the role of law enforcement, the penalties issued, and the importance of school bus safety.
"Keeping our children safe is our number one priority," said Dr. Gordon Pritz, Superintendent. "With these cameras, we hope to change driver behaviors and reduce violations to protect the lives of the children who ride Douglas County school buses every day.
In 2013 according to a Stop Arm Violation Survey conducted by the National Association of State Directors of Pupil Transportation Services (NASDPTS) drivers passed school buses illegally over 6,800 times in one day statewide, putting thousands of Georgia children in jeopardy. This video details the DCSS' campaign to ensure the safety of their students by catching drivers who illegally drive by school buses when they stop to pick up or drop off students.
"In the few days that we ran our surveys of our bus drivers calling in these violations, we had hundreds of people running these school bus stop arms and it is a very big problem in the Douglas County School System," said Andy Micacchione, Coordinator of Transportation.
Dwayne Worthan, Captain of the Uniform Traffic Division, Douglas County Sheriff's Office explains, "Once we've received the video, there will be a deputy assigned to review it. The deputy will look at the video and the violation and at that point they would determine whether or not it needs to be accepted or rejected."
Viewers will see how the CrossingGuard® solution, which mounts purpose-built cameras on the side of the school bus, automatically detects a vehicle illegally passing the stop arm and captures video of the violation including the vehicle's license plate. They will learn how law enforcement reviews the violation video and license plate images for approval prior to a citation being issued and the penalties that range from $300 - $1,000 for stop-arm violations.