ABOUT THE YOUNG GEORGIA AUTHORS WRITING COMPETITION

The purpose of the Young Georgia Authors (YGA) writing competition is to encourage students to develop enthusiasm for and expertise in their writing, to provide a context to celebrate their writing successes, and to recognize student achievement in arts and academics. This prestigious competition has been engaging Georgia students for more than two decades and is open to any student currently enrolled in Georgia public schools, grades K -12. The competition is co-sponsored by the Georgia Department of Education (DOE) and the Georgia Council of Teachers of English (GCTE).
Each fall, teachers throughout the county begin soliciting works from students to be entered in the Young Georgia Authors Writing Competition. The students are asked to produce original works without adult assistance. Then, teachers at each school spend considerable time gathering and judging the entries; determining a winner at each grade level; and submitting the chosen pieces to the system-level contest.
Next, each spring, several diligent and enthusiastic teachers serve as the Douglas County School System judges, pouring over the literary efforts of the students to choose the best of the best. Using a rubric provided by the Georgia Council of Teachers of English (GCTE) who sponsors the competition, the judges evaluate each entry based upon the following four domains:
Ideas

(depth of development, sense of completeness, focus, and relevance of detail)

Style

(voice and diction)

Organization

(sequence of ideas and appropriate organizational strategies)

Conventions

(clarity of meaning and overall mechanics).
The winning entries for each grade level are then forwarded to the RESA district where RESA officials judge the entries, selects regional winners to send to the state. Finally, those winners are sent to officials with GCTE who select the state level winners who are announced in late spring.
Below are the Douglas County School System winners for the 2016-17 school year. Congratulations to these students!!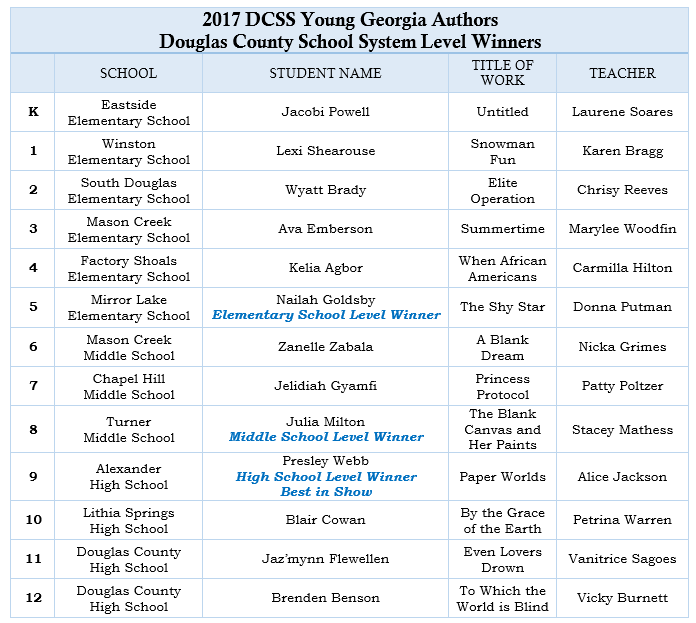 2017 DCSS Young Georgia Authors

Douglas County School System Level Winners

SCHOOL

STUDENT NAME

TITLE OF WORK

TEACHER

K

Eastside Elementary School

Jacobi Powell

Untitled

Laurene Soares

1

Winston Elementary School

Lexi Shearouse

Snowman Fun

Karen Bragg

2

South Douglas Elementary School

Wyatt Brady

Elite Operation

Chrisy Reeves

3

Mason Creek Elementary School

Ava Emberson

Summertime

Marylee Woodfin

4

Factory Shoals Elementary School

Kelia Agbor

When African Americans

Carmilla Hilton

5

Mirror Lake Elementary School

Nailah Goldsby

Elementary School Level Winner

The Shy Star

Donna Putman

6

Mason Creek Middle School

Zanelle Zabala

A Blank Dream

Nicka Grimes

7

Chapel Hill Middle School

Jelidiah Gyamfi

Princess Protocol

Patty Poltzer

8

Turner Middle School

Julia Milton

Middle School Level Winner

The Blank Canvas and Her Paints

Stacey Mathess

9

Alexander High School

Presley Webb

High School Level Winner

Best in Show

Paper Worlds

Alice Jackson

10

Lithia Springs High School

Blair Cowan

By the Grace of the Earth

Petrina Warren

11

Douglas County High School

Jaz'mynn Flewellen

Even Lovers Drown

Vanitrice Sagoes

12

Douglas County High School

Brenden Benson

To Which the World is Blind

Vicky Burnett