Georgia Grown
November Farm-to-School Highlight is Carrots.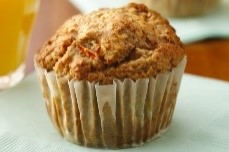 Carrot Muffin Recipe
SERVINGS: 76 servings (1 serving = 1 Muffin)
WEIGHT MEASURE
Applesauce 1 lb 2 cups
Water, cool 2 lb 4 cups
Muffin Mix 5 lb 1 box
Cinnamon, ground 2 Tbsp
Carrots, grated 1 lb 8 oz 4 cups
METHOD
Combine applesauce and water in mixing bowl. Add muffin mix and spices. Mix until well blended. DO NOT OVERMIX.
Fold pineapple and carrots into batter.
Deposit using #16 scoop into greased or paper-lined muffin pans.
BAKE
Convection Oven* 350°F 15-17 minutes
Standard Oven 400°F 17-20 minutes
-----------------------------
*Rotate pans baked in convection oven one-half turn (180°) after 7 minutes of baking.
NUTRITION INFORMATION
Nutrition values are calculated using the weights of ingredients.
Serving Size: 1 MuffinCalories130 Calories from Fat30 Total Fat3 1/2g Saturated Fat1 1/2g Trans Fat0g Cholesterol10mg Sodium180mg Total Carbohydrate23g Dietary Fiber1g Sugars11g Protein1g % Daily Value*: Vitamin A20% Vitamin C0% Calcium0% Iron2%
Exchanges:1/2 Starch; 0 Fruit; 1 Other Carbohydrate; 0 Skim Milk; 0 Low-Fat Milk; 0 Milk; 0 Vegetable; 0 Very Lean Meat; 0 Lean Meat; 0 High-Fat Meat; 1/2 Fat; Carbohydrate Choice1 ½
*Percent Daily Values are based on a 2,000 calorie diet.
---
"This institution is an equal opportunity provider."